Brief History
Ian Hargreaves formed Avonbar Racing originally in 1976 from his successes as an Engine builder and Racing driver.
Building and converting a 1968 Mk1 Cooper S, adding his own flair and attention to detail. The car ended up being all black and powered by a 1297 short stroke all steel engine.
Gaining practical track experience for Engines and chassis work, his knowledge was passed onto his customers which made Ian a force to be reckoned with in terms of business help and understanding on all technical problems as well as supplying customers exactly what they needed.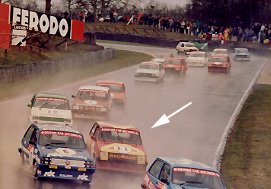 MG Metro Challenge at a very wet Brands Hatch. Stalling from middle of the front to finish second and setting fastest lap.
Ian won many Races at all the major racing car circuits up and down the country including Thruxton, Brands Hatch, Silverstone and sprints at Goodwood Snetterton and Mallory Park.Becoming second overall in the BARC drivers Championship.
Ian whilst running Avonbar became exceedingly versatile in his engineering skills building successful Ford Engines including the CrossflowPinto, V6 Essex and BD Engines
An MGB powered by one of Ian's engines won first time out at Silverstone; His Mini and Midget engines are still winning today.
Whilst directing and running Avonbar, in 1980 the BRSCC invited Ian to formulate the technical rules and regulations for the BRSCC Modified Saloon Car Champoinship
A combined saloon car racing series using original steel body shells which included all manufacturers and models which included Group 2 cars
From JULY 2022 Avonbar will be operating from the Stoke on Trent base of MINIMINE, Ian is taking a less stressful consultant role ensuring Ian's experience and high attention to detail will remain, Avonbar Racing has over 40yrs of performance experience ..long may it continue .